Applying for a credit card in the Philippines is a bit hard especially when you are working online due to some legality papers that you need to comply. In this blog, I will share with you how did I get approved on my credit card application even though I don't have enough documents.
Disclaimer: I'm not an expert, all of the suggestion below is just based on my experience
Actually, it isn't my first time to have a credit card because I was able to acquire my first BPI credit card last 2012 however I would not consider it as an application because the bank itself offered me the credit card. And since I was too young at that moment, I did not maintain a good credit score. It short, I'm spending more than I am earning.
So fast forward, I switched to BDO because BPI has a limitation in overseas transactions, this was the time when BPI cards don't have any visa or MasterCard trademark. As I remember, they only have bancNet and EPS trademark that's why it's very inconvenient to use it when you are traveling outside the Philippines.
Anyway, back on the scenario. 4 years after I switched to BDO, I was able to get the point why having a credit card is an advantage over carrying cash like:
Why Rebates Can Save You A Lot Of Money Using Credit Card
Rebates, Deal and Promos  – who doesn't want rebates and freebies?  If you have BDO credit card, you can download their BDO Deals app to check some promos. Example: you can get 8% rebate if you use a VISA credit card either on your online or in-store purchase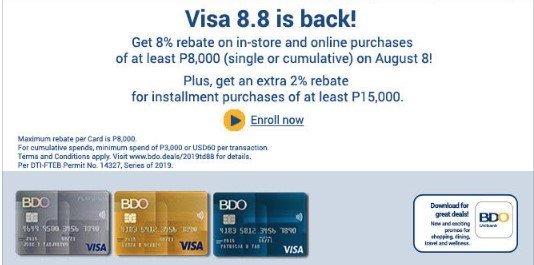 One of my favorites is the Dining Rebates like Vikings. Normally, their rate per head will costs you P800 but if you use BDO credit card, you can save as much as 40% discount. You just need to book in advance to they can reserve a seat for you, isn't a good ice-breaker
I was waiting on BDO to offer me a credit card just like BPI but unfortunately, it never happens even though I'm earning 6 digits though they gave me a rewards card. My conclusion is because I always withdraw my funds every time there's a remittance coming.
The Process Of Applying BDO Credit Card Online
Visit the BDO credit card application page then choose what card you are applying for. In my case, an agent called 3 days after I applied online and these are the questions that you need to be careful of:
1. Are you renting, living with parents or you owned a house?
I owned a house but my mom is living with me after my dad died. 
2. Do you have a car? If yes, is it mortgage?
I have two cars, one is under my name but the other one is still in mortgage
3. Do you have a dependency?
Yes, my son
I think the questions above is the getting to know-process, they want to evaluate you if you're really good managing your expenses.
4. Do you have an Office Phone Number?
Provided mine. It's really a plus point if you have a landline number.  Because this will prove your identity.
5. How much is your gross annual income?
I provided her my monthly salary then she just multiplied it by 12
6. What BDO credit card I am interested?
Since I'm not sure what credit card I really like, she suggested me a Platinum card since I was able to hit the minimum gross annual income.
7. Are you employed, self-employed or have a business?
I'm employed but at the same time, I'm also self-employed. Honestly, I'm working online as a website developer that's why I'm uncertain where should I categorize myself. I have clients both local and international and I don't have any payslips however my income automatically credits on my BDO Kabayan savings.
Requirements For Applying for Philippine Credit Card Online
After that, an agent says. I think you are categorized as entrepreneur ma'am so here's the only following proof we need:
Bank Statement for 6 months
2 Valid IDs (Provided my passport & Philhealth)
TIN Number – this is free, just visit nearest BIR and ask for the TIN number
SSS Number – this is FREE as well same with TIN Number 🙂
Business Permit – I told her that I don't have a business permit since most of my clients are abroad. I haven't legalized it but I've been doing this stuff for almost 6 years.  It doesn't make sense for me for now to get a business permit since it's virtual but sooner I might compile some permits once I need Filipino manpower. 
The Result of My Credit Card Application
After that, she provided me an email address ending with @bdo.com.ph to send the requirements. Then she asked how long I can comply with those requirements and when is the best time to call me back for the secondary interview. I told her that I can comply it today then she can call me back after 2 days same time 1 pm. Since she asking for 6 months statement, I need to go to the bank physically to ask for it.
After 2 days, she called me back and said that the application is already in progress. I can check the status on their website by putting my SS number
I was able to get the result from them after 14 days that my credit card was approved but it was not PLATINUM. I only acquired BDO GOLD VISA and BDO GOLD MASTERCARD. I think because even though my gross annual income is more than the minimum annual require for PLATINUM, I still did not pass the metrics because sometimes my bank balance is close to 0. Yayks.. For sure, freelancers can also relate. Gasto pa more!
Here's one of my sneak peek. On my conclusion, the 36.02 pesos drag me down to get a Platinum card. My suggestion is if you really want to have Diamond or Platinum card, do not let your bank statement down to 5 digits, you should keep savings on your bank.