There's a lot of resources on how to do marketing but tend to be overwhelming especially if you are uncertain on how to measure your marketing success, so you need to take something with a grain of salt otherwise you'll end up doing a lot of things. Don't get me wrong but it's better to work smart than work harder so you should understand what are your priorities and facts can justify this over "tips and advice".
Subscribe to my channel to learn more about marketing and how to make money online!

To become a smart marketer, you need to identify what workload deserve your time, money and sweat. Now, the UTM tracking code can be your best friend to maximize all the workload you're currently doing on your campaign. In fact, UTM will give you a bigger picture what marketing effort you should focus on.
But we already have GA and other premium social media tracking tools. Wouldn't be enough to measure the traffic coming to our website?
Yes! those tools are great for marketing report but most of those features will only give you a "sneak peek" of your audience behavior. With UTM Tracking code, you can create logical command to Google Analytics in order track a specific action like following:
Track what specific blog post drive you more traffic.
You have better idea which social media drives new/existing users.
Precise numbers on how long they stay on your page after they clicked what you have shared on social.
And a lot more
So what is UTM Tracking Code?
UTM stands for Urchin Tracking Module with it has corresponding parameters. It is designed by Google to track the origin of the website traffic: social media, paid ads, press release, guest posts, email and the list goes on.
Here's the example of a UTM tracking code: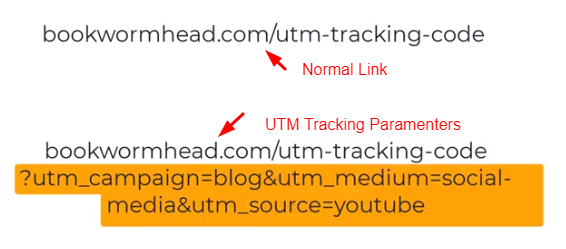 Now let's dive it to UTM Tracking Code Anatomy:
In order to create a UTM parameters, you can use the following fields:
Campaign Source – Is the origin source of your traffic. Facebook, Email Newsletter, Twitter, Google Ads, Facebook Ads and the list goes on. So if you want to track the posts from Facebook then you need to define "Facebook" as your campaign source.
Campaign Medium – medium is more broader part. it use to know what type of traffic it is: social media, affiliate, cpc or organic
Campaign Term – this is normally use if you are using UTM on your paid ads. And in most cases, we used keyword to understand what's the most interest of your audience.
Campaign Content – Basically, it somewhat related to type of campaign. Let's say you have A Landing page about eBook and the other one is Video Type.
Campaign Name – A brief description of what you're campaign all about. Is this a normal blog post, a service promotion, virtual summit or maybe a specific holiday discount like Black Friday?
Requirements and ways to generate a UTM Code Parameters?
Requirements to have a detailed data using UTM tracking codes?
Working website
Verified Google Analytics
Google UTM Tracking Builder or more advanced UTM Code Generator
Note: I don't use the Google UTM Tracking Builder method because it is very prone to mistakes so instead of manually importing all your UTM parameters field, it's worth your penny to use advanced UTM generator.  Below are my favorite tools so far!